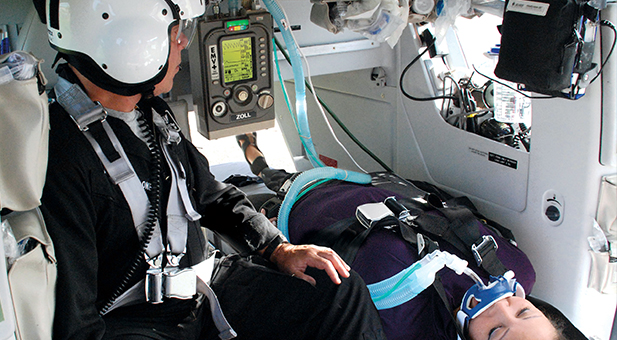 EMV+
Portable Critical Care Ventilator
Designed to meet military and civilian transport standards, the versatile EMV+® portable critical care ventilator is ideal for air medical and ambulance transport of infants (≥5 kg), pediatric patients, and adults. Just 9.7 pounds (4.4 kg), the EMV+ is lightweight yet rugged and features an energy-efficient integrated, high-flow compressor and oxygen system. The unprecedented 10-hour battery run-time and multisource power system allow operation and rapid charging using any power source. 
For military users, the EMV+ has Airworthiness Release and is safe to fly on rotary and fixed-wing Army, Air Force, and Navy aircraft. The fully transflective LCD and Silent and Dark mode capability allow operation in all light conditions.
Full Patient Range
For patients from infant (> 5 kg) through adult.
Smart Help™ Display
Guides operator through on-screen commands when responding to alarms.
Versatility with Standard Military Equipment
Functions with deployed oxygen concentrator systems used by the military.
Unprecedented Battery Run-Time
No additional battery back-up needed thanks to a 10-hour battery run-time. Battery recharges to 90% in 2 hours.
AWR Certified
Airworthiness Release certified. Approved for use during all phases of flight aboard both fixed-wing and rotor, U.S. Air Force and Army, aircraft.
Silent and Dark Mode
Can be switched to a silent and dark mode, preventing it from interfering with advanced infrared night-vision equipment.
Rugged, All-Weather Device
Designed for the unique needs of the military to handle austere environments. Meets an unprecedented set of military standards.